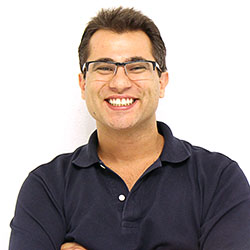 Founder
Marcelo Sales
Business Development at
21212 Digital Accelerator
Sales graduated from PUC-Rio in Computer Engineering and founded nTime Mobile Solutions (currently Movile) in 2000. Movile has offices in several countries of Latin America and develops interactive software for cellphones. In 2008, Sales participated in the process of obtaining investments and consolidating the market, which led to the entrance into the international Naspers MIH group and the acquisition of two competitors in Brazil and one in Latin America. He was responsible for the creation of products and new businesses that exceeded more than 10 billion SMS messages and more than 70 million users.
He is a founding partner of 21212, a digital business accelerator with headquarters in Rio and NY, that develops startups in Brazil and the United States. In 2004, Endeavor selected him as the "High- Impact Entrepreneur" and in 2010, awarded him "Entrepreneur of the Year." In 2012, he was awarded the "Entrepreneur of the Year from Ernst & Young Terco" in the Master category. In 2009 he attended Harvard Business School/ Naspers E-commerce Program. He has been a member of the Advisory Board of Movile since 2008 and of Escolha24hs.com since 2011. He is also a member of the Business Advisory Board of Young Businessmen of FIRJAN. He is specialized in innovation and has experience in the markets of China, Africa, Europe and the United States. He is directly involved with numerous initiatives related to the development of Entrepreneurism and has contributed to the growth of the number of diverse conferences in Brazil and the United States.
Past experience:
Movile founders / Endeavor Entrepreneurs Award 2010
Founder and CEO of WapTotal – 2000
Founder and CEO of nTime Mobile Solutions – 2001
Founder and COO of Comperantime – 2008
Founder and Director of Movile Latin America – 2009
Acquisition of Yavox – 2009
Acquisition of Cyclelogic – 2010
Head of innovation until 2011
Founder and CEO of OpenCompanyIdeas – 2011
For more personal and professional info you can check my Twitter and Linkedin.