DEMO Brasil, 21212 partner, will hold event June 25/26th in São Paulo!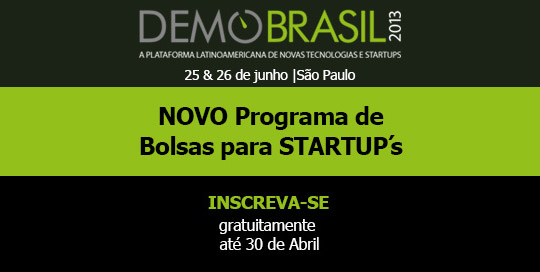 DEMO Brasil, co-organized by Now Digital Business and International Data Group, is an event that connects investors and startups, transforming innovative ideas into reality.  The DEMO has been held for over 20 years in the United States, and now they are coming to Brazil! The event will take place in São Paulo on the June 25th and 26th at the Sheraton São Paulo WTC Hotel.
During the event, a selected group of new products will present to global press, savvy investors, corporate acquirers, strategic partners and buyers.  Emerging technologies from some of the brightest companies will have the chance to be launched into the Brazilian marketplace.
A part of the event will also be devoted to the DEMO showcase, a "perfect environment to network, research, form meaningful and strategic relationships, and—yes—even close some deals. Here, investors and potential partners can get a close up look at the latest trend-setting technologies. It's not just a place for more face time, but for more eyes on-the-product time."
Startups can apply to be a part of this amazing event and present their product on stage! Follow this link to their website and click either "Apply to Demonstrator" or "Apply to Alpha Pitch." Applications close April 30th 2013.
For details on the event schedule, go to this link. Stay updated with the latest news by following their twitter here, or check out their Facebook page here.