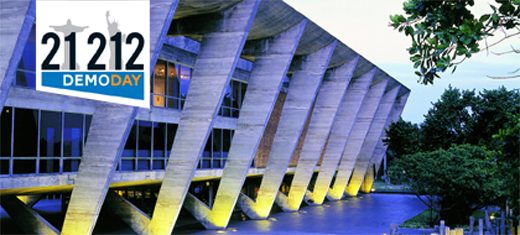 The next Demo Day is approaching!  Its scheduled for October 19th 2012 at Espaço MAM here in Rio de Janeiro. We are so excited to present the second batch of startups accelerated by 21212 – Brazil's most promising tech startups. After six months of hard work, lots of mentorship sessions, going to the street to talk to potential clients, and building products, they are ready to grow and reach the next level.  Without a doubt, 21212 is proud to be able to present these companies and add them to our group of 21212 startup alumni.
The Keynote speakers for this addition are Adriana Cisneros, Vice Chairman of the Cisneros Group of Companies and Davis Smith, Founder and Co-CEO of baby.com.br We are expecting a large mix of International and Brazilian Angel Investors, VCs, though leaders, media and market insiders.
Look for more details and subscribe for updates on our Demo Day website.
Watch the highlights from our first Demo Day:
21212 Demo Day Rio Summer 2012 from 21212 com on Vimeo.